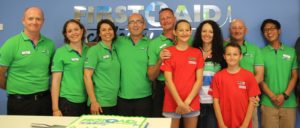 The First Aid Academy team has a wide range of skills and attributes that characterise us as the adaptable, professional and effective training organisation we are known to be. Between our staff members, we can communicate and teach in a range of languages, including Chinese (Mandarin), German, Dutch, Finnish, French and Spanish. Each of our First Aid Trainers holds a current Certificate IV in Training and Assessment, and is certified in the first aid qualifications that they teach. You will see our team regularly providing first aid at a variety of regional community, sporting and corporate events.
Read on to meet our staff members!

Alex van Welderen
Corporate Executive Officer / Director
Alex is the heart and soul of First Aid Academy. He is well known around Cairns, and his background in First Aid Instructor Training and PADI IDC Instructing make him a highly knowledgeable and respectable trainer.

Martina Thompson
Compliance Officer
Martina has been part of the First Aid Academy team since 2012. She is a trainer and administrator and also looks after our RTO Compliance.
ALPHA First Aid Team

Kim Kerr
First Aid Trainer; Administrator
Kim joined us in 2017.  She is currently heading the Alpha First Aid restocking department, and is also a First Aid trainer.

Diana Barber
ALPHA First Aid; First Aid Trainer; Administrator
Diana has been with First Aid Academy since 2011. She is a trainer and also does restocking with our Alpha First Aid team.
First Aid Trainers & Administration Staff

Bradley Davies
First Aid Trainer
Brad joined our team in 2013. He is one of our first aid trainers.

James Chang
First Aid Trainer; Administrator
James joined our team in late 2015. He instructs our First Aid courses in English and Chinese.
Dermot Rafter
First Aid Trainer
Dermot rejoined the team in late 2017. He is one of our First Aid instructors.